The Tickets screen is used to sell tickets or view information about upcoming sessions.
The Tickets screen is divided into three sections:
Sessions and tickets: most of the screen
Order window: right side of screen
POS buttons: lower part of screen
Sessions and tickets
The tickets screen displays a list of all the sessions that are playing on the selected date.
POS can list the sessions in three different selling orders:
Session by screen
Session by time
Session by film
The default selling order is set by your organisation in Cinema Manager, but you can choose to view one of the other two orders.
There may be more sessions that can fit on the screen. Click the scroll buttons to scroll up and down through the list of sessions.
Session buttons
Information about each session is displayed on the large session buttons at the left of the screen.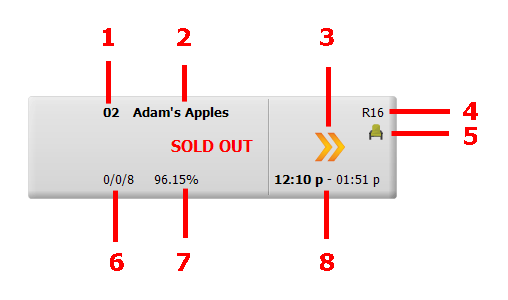 Key:
Screen The screen at which the session is playing.
Film title The name of the film.
More sessions This icon only appears when POS is displaying the selling order session by film.
The icon indicates that the film is playing in multiple sessions. Tap the icon to reveal the additional sessions.
Censor rating The censor rating or age restriction associated with the film.
Allocated seating Patrons will be assigned specific seat numbers in this session.
Seat availability Information about seat availability and bookings.
0/0/8: This screen has 0 seats available for sale, no unpaid bookings, and 8 house seats.
First number: number of seats still available.
Second number: number of unpaid bookings.
Third number: number of house seats still available.
Occupancy The percentage of seats that have been sold.
Session time The session's start and finish times.
Tap the session button to view more information about the session, or to sell special tickets from the alternative ticket screen.
Ticket Types
To the right of the session buttons are buttons representing the most common ticket types that can be sold for the session. Tap a ticket type button to sell one of these ticket types to the session.
The following information may appear on the ticket type buttons, depending on how your cinema is configured:
Area category corresponding to the ticket type (for example: Premium).
Number of unsold seats still available in the ticket's area category.
Name of the ticket type (for example: Adult).\
Price of the ticket.
---
See also: