Reconciliation is the process of checking that you've received the correct funds from your electronic payment processors.
Reconciliation allows you to uncover any problems in the payment processing and the funds-transfer chain. Only you have access to all the information needed for reconciliation. For this reason, we strongly recommend that you regularly reconcile your electronic payments with your bank statements and reports from your payment provider.
Any transaction using remote electronic authorisation (such as credit card or gift-card transactions) must go through many payment handling steps before funds are transferred to your bank account. If payment processing fails at any point (see diagram below), the money won't appear in your organisation's bank account.
You can use Vista software to identify discrepancies between your reported and banked electronic payments.
Reconciliation frequency
Daily reconciliation

is recommended.
At minimum,

weekly reconciliation

is required.
Warning! If you do not reconcile within 7 to 10 days, you run the risk of irrecoverable data and financial loss. Most payment processing companies hold electronic transaction information for only 7–10 days. After this period, there will be no records for the processing gateway to access to reprocess the transaction. As part of its PA-DSS compliance, Vista does not keep full credit card numbers on file after the initial authorisation, and therefore cannot provide the information to re-process any transactions.
Timing-related discrepancies
The total money you receive into your bank account for a particular day will rarely match the total value of electronic sales for the day as reported by Vista.
This is because Vista reports on the 24 hour day from 6am to 6am. The credit card processor usually has a different daily cycle. For example, they may report sales from midnight to midnight.
When the day is closed at the cinema before the electronic-payment processor's day is closed, subsequent electronic purchases are assigned to the next business day in Vista, while the payment processor and bank assigns them to their current day. Hence, the total funds moved to your bank account will not match the Vista sales for the day. This is exaggerated when the cinema circuit and the payment processor operate in different time zones.
An accurate check of whether the systems are working can only be performed by comparing individual payment transactions recorded in Vista with those recorded by the credit card processor.
Important! While discrepancies in totals will always exist, they should only amount to a small fraction of a day's trading.
Note: Depending on your website environment, Vista may not have details on how your credit card payments were processed from internet ticketing-sites or third parties. In this case, please contact your payment provider to obtain more information.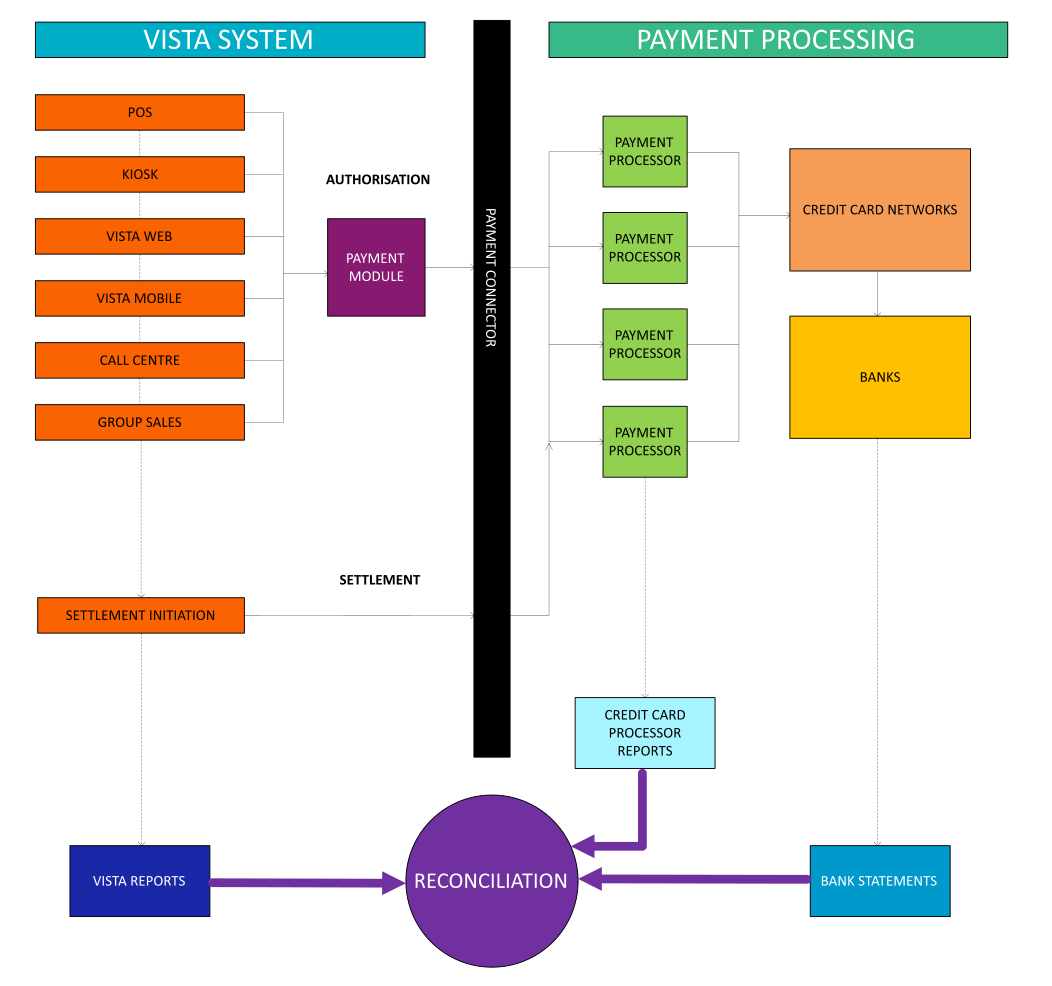 See Also:
Daily financial operations in Vista
Performing a full reconciliation
Performing an approximate reconciliation